Here are my Starred/Fav'ed things from Google Reader this Week:

Design Sponge } Flowers A-Z
I love doing floral arrangements, even though I have a huge yard to plant tons of flowers all over the place I don't do it... I want bouquets in my house all the time, flowers are the prettiest thing. And Anemones are so delicately beautiful.

All This Happiness } Too Much of a Thing
I love this outfit, and I love all of Kate's outfits, but this post really says something to me. Sometimes you get bored with your look whether it's cute and prim or not very stylish. And when your in that stage it can be tough to find your voice. But this outfit still is magnificent to me. I love the jacket and the contrast of the stripes.

Mod Cloth } Fav Looks from Paris Fashion Week
I agree with Julie the Modcloth stylist. This is my favorite look. It's just breathtaking. And blue, my favorite.

Vilhelm Hammershøi's paintings via Audrey Kawasaki's blog
I love this painter so much... the images are amazing.

Sea of Fertility } Military Mode
I love Nancy, it's one of the first fashion blogs I followed, how she mixes her drawing with fashion is amazing, and her taste is incredible. If I could have one thing from her wardrobe I'd be in heaven.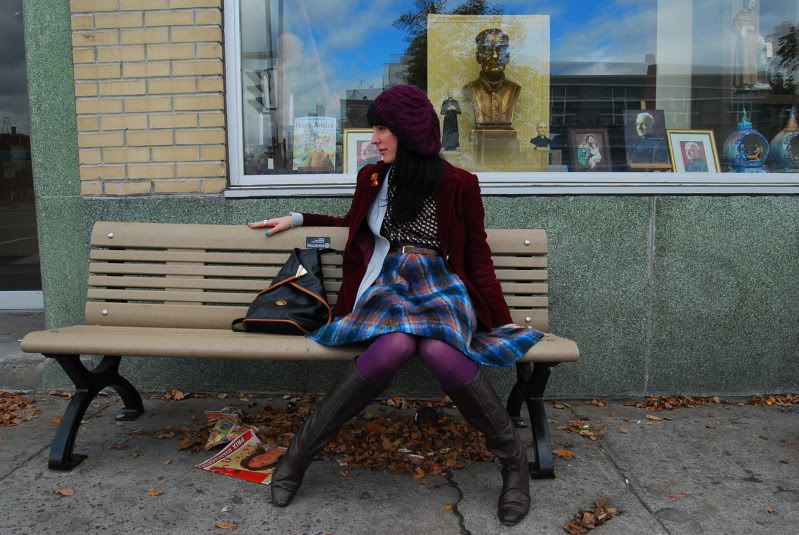 YeYe! Style } Puces Pop 2010
This outfit is perfect, impecable. I want it now. The purple, burgendy and plaid are just amazing. And the layering makes it look so comfortable. Plus she's wearing
YarnOverMovement
by Tara Lynn who is another fashionable lady I've been following for sometime.

Lost in E Minor } Lego Logan's Run
Um can I say awesome. This is mainly for Kevin who wants to do this for a living.

Ellie Noble via Audrey Kawasaki's blog
I'm in awe of these photos. just awe.
That's my first Fav Friday post! And onto my want... haha!
**
Okay, I really want this pair of two tone brown oxfords from UO''s website. I've done my searching and can't find anything that is my size or the style I want. I know I would wear them all the time, because really, look how many times I wear my red oxfords... Like almost daily? And they would be great to ride my bike in... Oh I want.
So I set a mini goal for myself to see if I'm worthy of these babies. First off, I've been pretty good about not buying too many clothes this past month (I did buy quite a bit of socks and tights). And I started on Wednesday the rule I have to ride at least 12 miles a day (which is to work and back). And I have to finish my freelance work this weekend. And I have to actually post the feature that I've been working on for months now (I hope you like it). I also have bunches of presents to send out! Ah!
So if I get these goals met by Monday, I'm getting me some new oxfords. Yum. And it'll be perfect timing for my secret outing at the end of the month. Yay!
Huggles,
Lauren