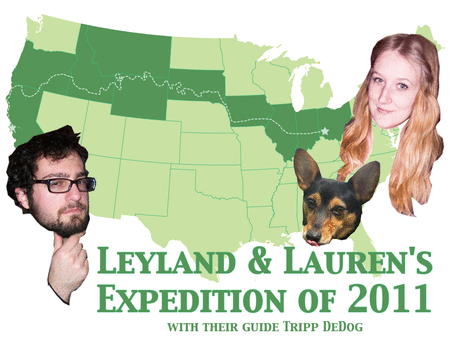 So as you all know I'm going on a trip across country with my best buddy Leyland and my puppy Tripp!! We are so excited and it's going to be amazing! So I decided to share our route with you all!
Day 1 }
Dayton - Sioux City, IA
Day 2 }
Sioux City - Badlands NP - Rapid City, SD
Day 3 }
Rapid City - Mt Rushmore NM - Needles Highway - Deadwood - Devils Tower NM, WY
Day 4 }
Devils Tower - Beartooth Highway, MT - Yellowstone NP
Day 5 }
Yellowstone!
Day 6 }
Yellowstone - Grand Teton NP - Craters of the Moon NP - Boise, ID
Day 7 }
Boise - Crater Lake NP, OR - Crescent City, CA
Day 8 }
Crescent City - Redwoods NP - Point Reyes NS - San Francisco, CA
I'm really excited I haven't driven across country since this spring (well before that was 3 years ago) and I haven't been to these National Parks in about 7 years!! And I get to add one more state to my travel roster, Oregon! I will now have 46 states under my belt! I'm really excited as well because Leyland has never driven west of Chicago, he's in for a treat!
I have a few more inspiration posts that are scheduled before the awesome guest posts start on Tuesday! I'm so excited to see what they come up with!!
Anyway I'm off Friday morning, next time you hear from me I'll be living in the east bay!