Hi there Sparrow and Urchin readers, it is I, your friendly guest blogger
Ebony
. Mwuhahaha! For those who didn't get the Sesame Street reference, shame on you, or me, either way - let's move on. Lauren is an amazing artist. I don't have an arty bone in my body… Yeah.. I was the kid that doodled the flower, not 'sketched' persay. I like to fancy myself as an art appreciator (it's a reputable profession, trust me.) And when I say art, I mean arty magazines and prints off Etsy. But enough about me, we're here to talk about Frankie.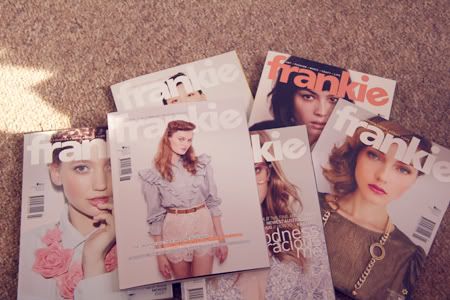 Frankie is an amazing Australian publication that showcases art, craft, music, fashion, food and current events. It has a huge focus on indie stores and has the amazing ability to make you tear up on one page and be cackling the next. I like to think of it as an old friend… although you only get a chance to meet up once every two months, the warm feeling you get from conversing lasts until you meet again. How could you resist a publication that showcases...
Interviews with local artists and store-keepers.
And if that wasn't enough, each issue contains a bi-monthly pull out calendar that features amazing art on the other side! And no, I don't still have my March/April calendar up.. it was just for the shoot. Promise.
It's easy to see why it's my favourite magazine. I just can't get enough… I've bought both their cookbooks and put in a Christmas request for their 2011 diary and SPACES book.
Unfortunately the international subscription prices are a little pricey - but as of December I'll be living near a number of newsagents, so if you ever wanna copy (we could work out a yearly rate if you're super keen!) just swing by my blog and drop me a line. Or for a free weekly dosage of Frankie lovin, just head to their
website
and sign up for their newsletter. Easy! Thanks for letting me share this obsession of mine, and no, they didn't pay me to write this post… it is my dream to be paid to write for them though, so feel free to bombard them with emails about how good an advocate I am :p Hope you had an amazing Thursday!