Why yes they are. And you know who is the purveyor of that coolness?
Meg
.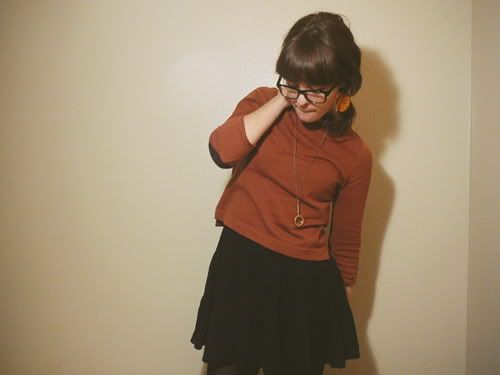 So I've been lame with taking pictures of myself I know... but to get me back in the swing of things I thought I'd dress like my blog friends and/or real friends. So here's my best Meg!
Comfy crop sweater... Check!
Cutesy scarf hood... Check!
Sweet necklace... Check!
Skirt... Check!
Boots (even though she doesn't show them much)... Check!
And now silly face.... Check! Oh I'm sorry that's more scary.
So what do you think? Did I do my best Meg? And sorry I look mopey and tired, this was at night after a retirement party... that kevin and I were late too :( stupid snow! The dog was not amused.
{ Materials Used }
Scarf }
UO, on sale
Sweater }
UO, on sale
Necklace }
F21, old
Skirt }
Vintage
Tights }
Kohls
Boots }
Vintage
Huggles,
Lauren