Today we had a designer meeting in our showroom so the morning was filled with yummy muffins, coffee, and chit chatting... Unfortunately the afternoon dragged on as people slowed down because of the heat. Driving home was the worse. I have no air in my car (it's broken) and with the windows down the only air I was getting was being pelt in the face my hot air. yuck...
So considering the disgusting heat we've been having I haven't taken pictures of my clothes this week... and I've actually been dressing very nice!! Thankfully I put in a window air conditioner in my room last night so I thought I'd give you a tour of the only cool room in my house (yeah I have no air in the house either).
When Kevin moved out the first thing I did was redo my bedroom. He took the mattress and bedframe and whatnot, so I decorated it to my little hearts desire! I painted the walls pretty mint green and rearranged everything! I still had lots of plans on what to do with stuff but I don't think I'll be doing much more to the room. I absolutely love my big four post bed and having no dresser helps open up the space and let the light from my wall of windows in. And I got a Queen bed... oh me and Tripp just have tons of room to snuggle at night.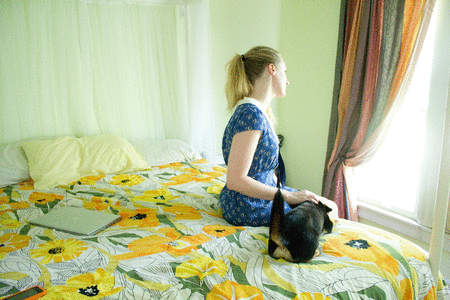 Also I did an over haul on my closet... I thought I didn't have many clothes but boy, I think I have a ton (I'm sure some of you girls can put me to shame!) I love that I can hang everything and have a built in for my tees, jeans, and unmentionables. And I've found clever ways to store things like my shoes and dirty laundry (keeping them from the pesky puppy!) using wall storage and under the bed storage (this bed is super high up and allows so much under it!!)
So for todays scorcher I wore some new sandals and a silk dress, boy it helped so much. It's been really hot here. The fabric was so light and airy it felt like nothing yet still was great for the meeting I hosted this morning... oh but my hair was down and all pretty... I had to put it up on the ride home.
{ Materials Used }
Dress } UO, on sale
Sandals } F21
Bed Frame } Ikea
Comforter } UO
Huggles,
Lauren